Digging Foundations in Ottawa and Nepean
We offer foundation excavation services in Ottawa and Nepean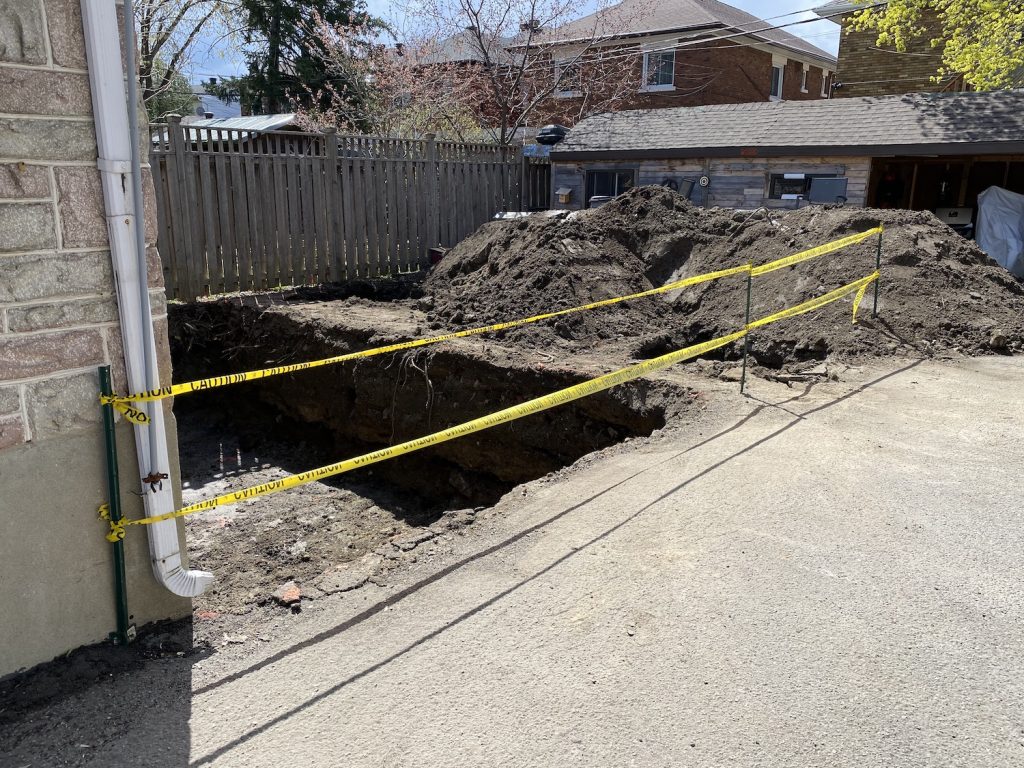 If you're planning on building a new structure on your property you're going to need someone experienced to handle the excavation and construction of your new foundation.
Nepean General Contractors is a licensed and insured excavation contractor offering services in Nepean and Ottawa, ON. We specialize in excavating foundations and footings for new construction projects including excavating foundations for shops, garages, barns, new homes, and more. For many projects we can handle excavation of the foundation right through framing and concrete pouring too making us your one stop shop for concrete foundations in the Ottawa area.
Our Services Include:
Digging for shop foundations;
Digging for garage foundations;
Digging new home foundations;
Digging home addition foundations;
Excavation for concrete slabs;
Excavation for concrete patios;
Digging for concrete driveways;
Digging and prep for new pools;
Excavation for ICF foundations.
New Contruction - Houses, Garages and Sheds
Planning on building a new home? Or a new garage or shed? No matter the use, the new building will need a foundation to offer support for the structure above. Different types of foundations require different levels of excavation - from slab-on-grade where minimal excavation may be needed - to full depth footings - we have the right tools to complete the work efficiently and on budget.
Additions
In today's booming housing market it's often cheaper to add on to your existing dwelling that go through the trouble of finding a new home. Your new addition will need a new foundation to support it alongside your existing dwelling. Our experienced team of professionals can prepare a Grading Plan for your addition (if applicable), complete the layout for excavation, excavate down to the specified elevation, and haul off the excess material. We own all our equipment, including dump trucks for hauling off material. This means we complete the job efficiently, and get it done on-time and on budget.
Dump Trucks for Hauling Excavated Soils
At Nepean General Contractors we own a fleet of versatile equipment, including dump trucks of varying sizes. This means that we ahve the flexibility to choose the equipment best suited to the project at hand. Some large additions can have 40-50 dump trucks of dirt leaving the site. When you're waiting on rented trucks to show up to haul off the material - that can seriously delay a project. Having our own versatile fleet allows us to keep things moving at a pace we're able to control - keeping the project moving in the right direction!
Why Choose Nepean General Contractors for Your Foundation Excavation Project?

When you choose Nepean General Contractors for your foundation project you are partnering with a local business that has been serving the Ottawa area for many years.  You can count on your project being completed on time, within your budget and with a level of workmanship and attention to detail you won't find with other excavation contractors.
We'll maintain a safe working environment and we'll protect your property from any damage while using our machines. The end result is to meet all of your excavation goals while leaving minimal trace of our presence. Our business has continued to grow through word-of-mouth from our many happy customers who refer us to friends and family. It's through our continued commitment to quality and customer satisfaction that we can continue doing what we do best!
If you'd like an estimate for your project please fill out the Request an Estimate form found on this page. We respond to all requests, generally within 1-2 business days. If you haven't heard back from us - check your spam folder!