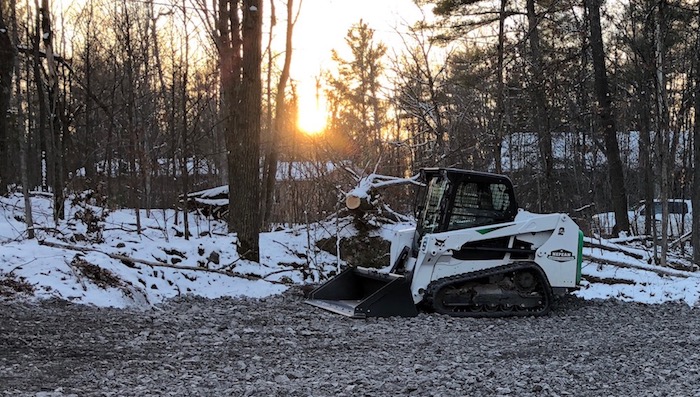 Excavating and Skid-Steer Services Nepean and Ottawa
Excavation For Construction and Landscaping In Small and Tight Access Areas.
There are many landscaping related projects that are just too much for shovels and wheelbarrows and the heavier equipment must be brought in.  Mini-excavators and skid steers are two of the most versatile work-horses available to a residential contractor/landscaper and they can make short work of almost any residential landscaping project.
Nepean General Contractors is a full service landscaping and excavation contractor based out of Nepean, ON.  We specialize in providing landscaping and excavation services for residential and light commercial projects.  We have mini-excavators and skid-steers that can fit through a 36″-40″ gate. We also have larger conventional skid steers, as well as larger mini-excavators(5 ton).
To protect your property we put down ground protection mats and non marking mats when excavating or travelling through sensitive areas such as an established landscape or nice brick driveway.
If you have a landscaping or excavation project that would be a good fit for our equipment let us know!
Mini Excavating and Skid-Steer Services in Nepean and Ottawa
Foundation damp proofing
Deck footings
Trench for drainage tiles
Fence post holes
Augered holes 8″ to 24″
Property grading projects for new lawns and gardens
Retaining wall repair and removal
Why Choose Nepean General Contractors For Mini-Excavation and Skid-Steer Services?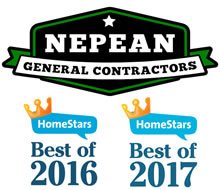 When you choose Nepean General Contractors for your excavation or skid-steer project you're partnering with a small team of local craftsman.  We're a small outfit but we like it that way because it keeps the quality of our workmanship in a category other contractors can't touch.
We work one project at a time so that you get the best in our personal service.  Alan Shade (owner) is always on site and readily available to help you and make sure your project deadlines are met without surprises or hassles.
If you'd like an estimate for your smaller excavation project please give us a call (613) 894-8683 or fill out our email form and we'll get back to you shortly.