Pre-Construction Planning
Pre-Planning for Construction in Ottawa and Nepean
We can help from concept through construction!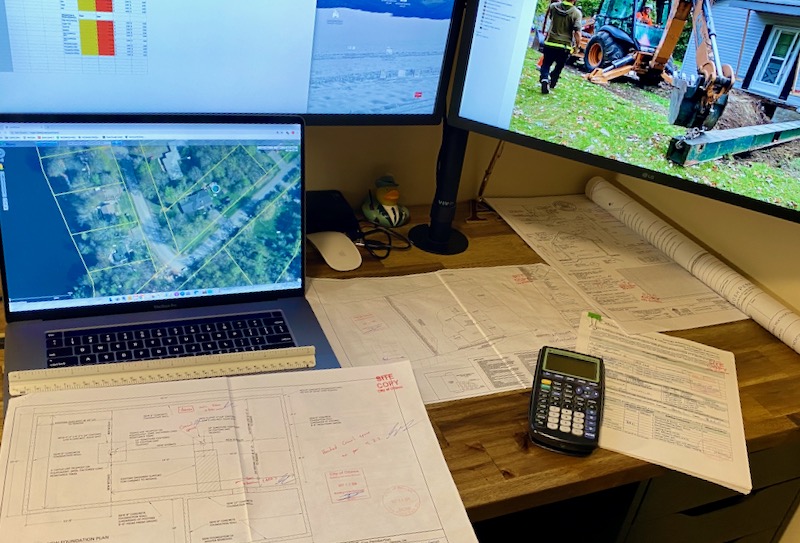 Before construction of your project can start, there's a number of things that need to be done. We at Nepean General Contractors are here to help. We employ experienced professionals who are familiar with submission requirements at the start of the project, and experienced in construction methods and options to save you money while ensuring quality work.
The Building and Design Plans
Prior to preparing your building permit submission package, our staff will perform a pre-consultation with applicable approval agencies. Depending on the location of your project, this may include the local municipality as well as the local conservation authority. Typical submission requirements may include a Site Plan, a Property Survey, a Grading Plan and a Foundation Plan. As with all things in life - not all plans are created equal, and the quality of the prepared plans can dramatically impact the cost of your project during construction. Here at Nepean General Contractors we pride ourselves on quality workmanship. This includes workmanship at the plan preparation stage. 
The Benefits of Early Planning
We understand - you can see the final product in your head - and you just want to jump ahead to the construction stage. Spending some time focusing on good upfront planning though can save thousands during construction. Spending a little money up front for proper pre-planning services can reap savings down the line. Nepean General Contractors emphasizes the importance of upfront planning and pre-consultation. Have you ever handed in an assignment at work or school, only to get it back and find out you completely misunderstood the assignment? That's what it is like to hand in a building permit application without a pre-consultation. We talk with the municipality and conservation authority (if applicable) to determine not only the submission requirements but also to confirm any scope limitations. Maybe there's a wetland or regulated area on your property that is subject to setbacks. Identifying that early on ensures that you aren't wasting valuable time and money preparing something that would never be approved. By involving us as early on as possible with your project, we can save you thousands on the most expensive part of your project - the construction and materials.
Developing Solutions
Just because it can be drawn on paper (or on the computer), does not mean it can be built. Our staff have received countless plans from homeowners - often done by professional designers! - that featured lovely linework - and looked very pretty on paper - but were not actually constructible. Or while they may have been constructible, they had excessive additional costs that could easily be avoided through minor adjustments to the plan.
As our staff are experienced with not only the plan preparation but also the construction methodologies and limitations, we are able to identify limitations and challenges that might be shown on plans. By identifying non-buildable issues up front, rather than during the construction phase, we can save you both time and money. Furthermore, we work with an experienced team of professionals, and by allowing us to act on your behalf for the preliminary review of the plans, we can identify these issues before the plans even make it to your desk. Your time is valuable! Don't waste it reviewing something that can't be built! Our experience also allows us to guide you on alternative solutions. Most projects have multiple solutions; slab on grade or frost footings, for example. We will assist you in choosing the most cost effective solution to suit your project needs. Small add ons to your project may have big price impacts - and we are here to help identify those and ensure you are aware of their implications early on in the project.
If you'd like to connect with our team to see how we can help plan your next project, please give us a call (613) 894-8683 or fill out our "Request Your Estimate" form and we'll get back to you. We respond to all inquiries within 1-2 business days, so if you haven't heard from us – check your spam folder!