Slab on Grade Design in Ottawa and Nepean
Learn more about the benefits of slab-on-grade compared to traditional foundations!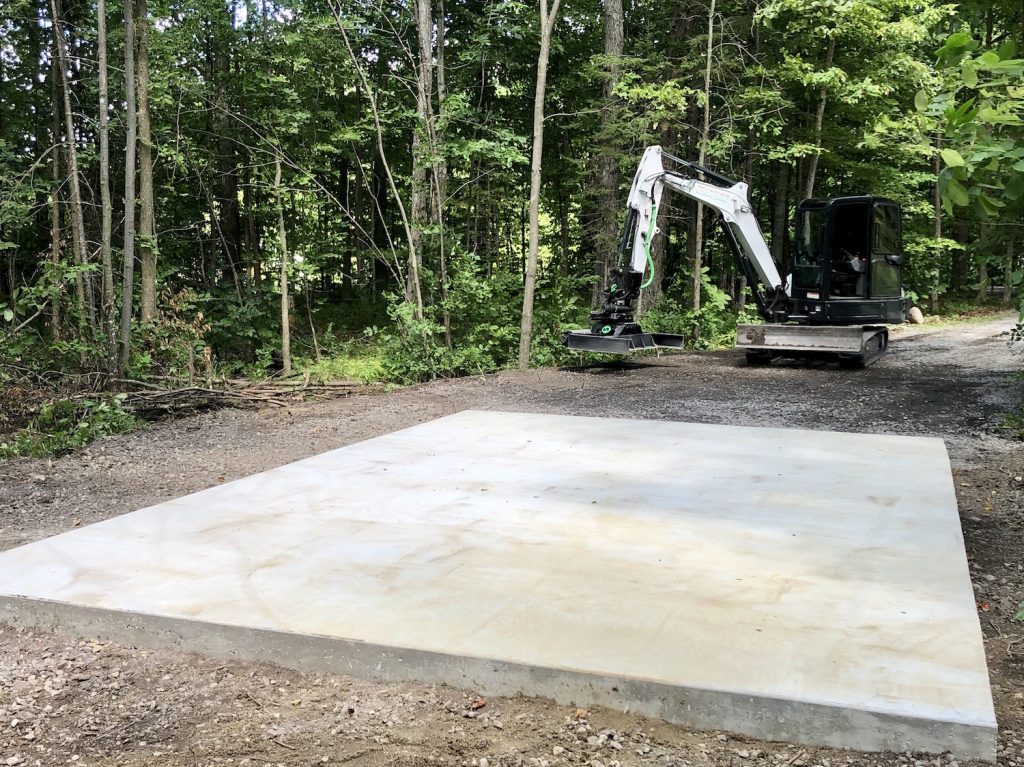 The Ottawa Valley has a significant variety of subsurface conditions. In some areas, bedrock can be found at the surface, or at elevations very close to the surface. In other areas, soils can vary dramatically from sand to clay or any spectrum in between. With all these different soil conditions comes challenges for construction, particularly when dealing in areas involving shallow bedrock. The removal of rock is not impossible, but often involves costly construction methods like blasting, drilling or hammering. To offset these costs and work with the site conditions, many may choose to build a foundation built at grade or with limited disturbance to the ground, rather than a traditional excavated foundation. 
Slab on grade (also sometimes referred to as a floating slab or a raft slab) generally involves a single pour - pouring both the footing and finished floor at the same time. A slab on grade building will not have a basement. 
At Nepean General Contractors (NGC) we are here to help you right from the beginning of your project - to help you choose the right foundation to suit your project and your site conditions. Our experienced staff can help guide you through the design process, permitting requirements, and through the final construction, to help make your project a reality. Learn more about our pre-planning services here. 
Traditional Foundation (Footing, Foundation & Floor)
A typical frost footing foundation (also known as wall and footings; or foundations if you want a basement under your new building) will have a construction schedule as follows:
Excavation for footings and foundation walls;

Concrete contractor forms and pours footings;

Removal of footing forms;

Installation of wall forms and pours walls;

Removal of walls forms;

Installation of waterproofing and weeping tile;

Backfill;

Preparation for interior slab;

Pour concrete slab;

Excavator returns to do finish grading at end of project
This is completed over many days, and requires multi-day coordination with multiple trades. This allows for many opportunities for delays as scheduling with multiple trades has its challenges. 
Slab on Grade Design
For comparison, a typical slab on grade construction schedule would be as follows: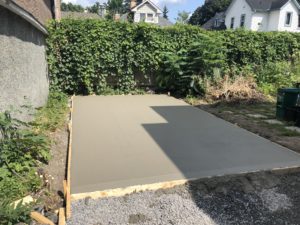 Forming and preparation for slab;

Pour concrete slab;

Remove forms and backfill;

Excavator returns for finish grade at end of project
Compared to a typical frost footing install, a slab on grade has a number of benefits. Fewer steps means less coordination required with outside suppliers and subcontractors - which has the significant benefit of saving valuable time on your project. Weather is a big challenge with concrete work - and the Ottawa Valley's wide variety of weather conditions can make it difficult to get the right weather conditions on the particular day you need them. Only needing a single day to pour, your project can more readily stay on schedule, and on budget! A slab on grade requires less concrete than a typical frost footings, walls, and floor, making it more environmentally friendly as well. 
Slab on grade concrete pads also have a practical aspect to them. Given the variety of soil conditions in the Ottawa area, it is not uncommon to encounter challenging soil conditions. A slab on grade design may be the most practical solution to address challenging soil conditions, particularly in clay soils where the bearing capacity of the soil may not be sufficient to support a traditional footing without costly extras. 
Concrete slabs are generally the foundation for any new or remediation project in the Ottawa area. If you need concrete work, or have a project in mind that needs a solid foundation, reach out and let us help you determine the best solution for your project. 
Why Choose Nepean General Contractors for Your Project?

When you choose Nepean General Contractors for your project you're partnering with a small team of local craftsmen. We are a small outfit but we like it that way because it keeps the quality of our workmanship in a category other contractors can't touch. You can count on your project being completed on time, on budget and with a level of workmanship and attention to detail you won't find with other contractors.
With direct owner involvement on all projects, we have the peace of mind knowing that we live by the "do it once and do it right" philosophy.
Our business has continued to grow through word-of-mouth from our many happy customers who refer us to friends and family. It's through our continued commitment to quality and customer satisfaction that we can continue doing what we do best!
If you'd like an estimate for your project please give us a call (613) 894-8683 or fill out our "Request Your Estimate" form and we'll get back to you. We respond to all inquiries within 1-2 business days, so if you haven't heard from us – check your spam folder!