New Lawn Installations in Ottawa and Nepean
New Lawns for New Construction, Property Development and Restorations
We specialize in the installation of new lawns using turf or seeding grass naturally.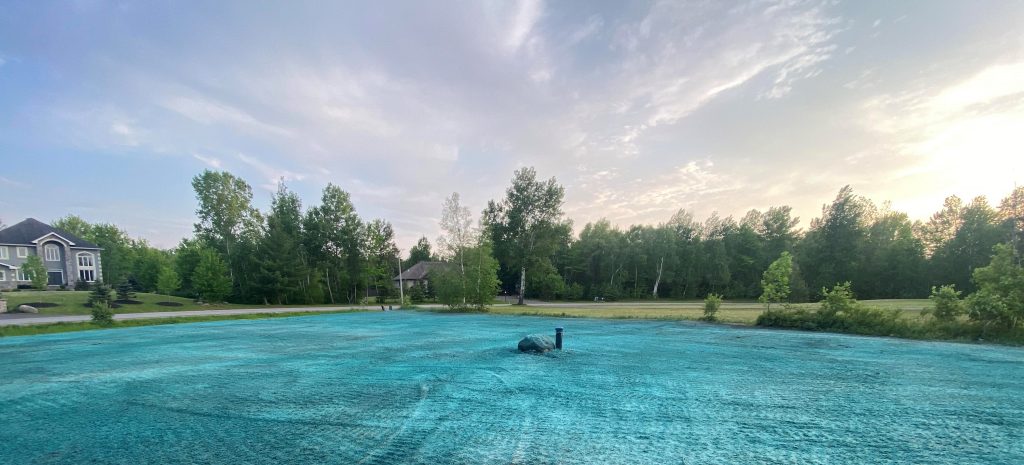 Are you looking for the best (fastest) solution for a new lawn?  Are you building a new home or finishing improvements to an existing lot?  Maybe you've purchased a home or property and the lawn is in poor shape? Sod is an excellent solution for any property owner looking to have beautiful vibrant grass without having to wait weeks for the seed to grow or the weather to cooperate.  With good quality sod, we can prep your property on one day (sometimes two) and roll out your new lawn on the next, wait a few days for it to settle and you're new lawn is done!
Nepean General Contractors is a full service general contractor based out of Ottawa, Ontario. We specialize in the planning and installation of new lawns for new construction projects and property developments using sod.  If you need a new lawn installed on your property we can take care of everything from the initial site prep and grading to rolling out your new lawn.
Sod and New Lawn Installations in Nepean and Ottawa
Lawns for new construction
Lawns for property developments
Planting new grass lawns
Installing new turf/sod lawns
Lawn replacement and restoration
Lawns for commercial or public properties
How Our New Lawn Installation Process Works
We start with our initial consultation and measurements of your property.
We inquire about any historical grading/drainage issues.
We bring in topsoil and spread as needed to ensure uniformity.
Irrigation can then be installed (if applicable).
The area is then ready for freshly rolled turf grass, seed, or hydroseeding.
The end result is a beautiful, lush green lawn!
For most average sized lawns this entire process can be completed in just 1-3 days.  For much larger residential lawns or commercial properties the process will take longer but the end result is exactly the same.  You're going to end up with a beautiful, lush green lawn.
Note we also offering pre-grading and hydroseeding services for large properties. Hydroseeding can be a cost effective way to get grass growing on large surfaces where sod may not be financially viable.
For more information on how we can best help you get a lush new lawn, contact us today.
Why Choose Nepean General Contractors for Your New Lawn Project?

When you choose Nepean General Contractors for your new lawn project you're partnering with a small team of local craftsmen. We are a small outfit but we like it that way because it keeps the quality of our workmanship in a category other contractors can't touch. You can count on your project being completed on time, on budget and with a level of workmanship and attention to detail you won't find with other excavation contractors.
With direct owner involvement on all projects, we have the peace of mind knowing that we live by the "do it once and do it right" philosophy.
Our business has continued to grow through word-of-mouth from our many happy customers who refer us to friends and family. It's through our continued commitment to quality and customer satisfaction that we can continue doing what we do best!
If you'd like an estimate for your project please give us a call (613) 894-8683 or fill out our "Request Your Estimate" form and we'll get back to you. We respond to all digital inquiries within 1-2 business days, so if you haven't heard from us – check your spam folder!