Site Plans in Ottawa and Nepean
Your in-house designer for Site Plan Approval or Site Plans for permits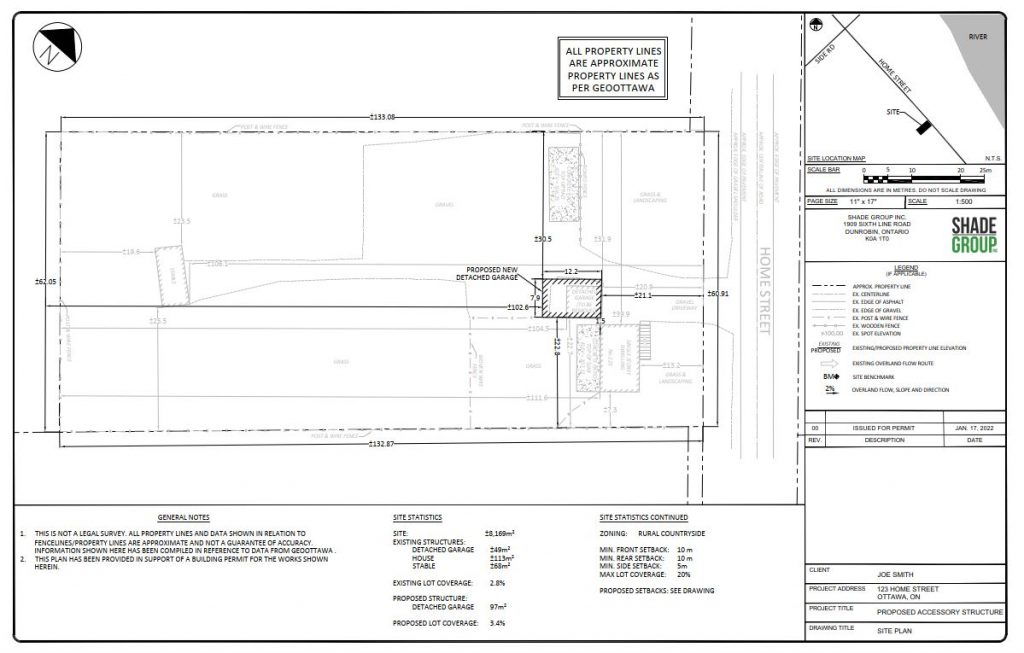 You have spent hours, days or years dreaming of your new project. You have an image in your head of what it looks like and where it is going to go. You know you want to take on a new garage or a new workshop (or a craft shed, or, or, or – the ideas are limitless!) The next step is to get that dream down on paper! 
If you are looking to take on a new build project, there is a good chance you will need a building permit. As part of the building permit submission package, you will need to prepare a plan that shows the municipality what you want to do and where you want to do it. This plan is typically called a Site Plan but can also sometimes be referred to as a base plan. 
What is a Site Plan? 
Nepean General Contractors employs staff with the skills and experience to prepare a Site Plan for your project. A Site Plan is an aerial overview of your property, shown as a line drawing that visually represents fixed objects, important buildings and landscapes are on your property. This might include driveways, well heads, retaining walls, garages, etc.
The Process
A site plan will typically start with a site survey, during which our staff will come to your property and collect valuable field data. This field data is compiled in our computer software and used to draw up what your current property looks like. Once we have the existing conditions all drawn up, we work with you to develop an outline of your new project! 
Depending on the intended projects - sometimes the approval agency will accept a digitally developed site plan - using existing aerial imagery and satelite imagery. This approach can significantly reduce the cost of the work involved. When you reach out - we'd be happy to walk you through various options that - on our professional experience - would be suitable. We then recommend you reach out to the approval agency to get their acceptance of the proposed approach - or we're happy to do this pre-consultation on your behalf!
A Bit about Surveys...
Please note that only a licensed Ontario Land Surveyor can confirm and establish property lines. We at Nepean General Contractors have a well established relationship with numerous surveyors in the area and will help you identify early on any services that may require an Ontario Land Surveyor. Just another way we can help with pre-planning your project!
While the above work focuses primarily on the building permit stage for small residential projects, please note that we also have the means to assist you through the Site Plan Approval process for small or medium sized commercial projects. That might include a new commercial development; or changes to an existing commercial  or industrial development. In general - commercial or industrial development will trigger the need for Site Plan Approval before being eligible to apply for a Building Permit. 
If you are interested in learning more on how we can help with your project, please fill out our contact form with as much information as you can provide, and we'll get right back to you! If you haven't heard from us in 1-2 business days – check your junk mail filter!