NGC Drainage School – Our Design Process
Does your property have drainage issues? Are you looking to hire professionals to fix it? Look no further! Nepean General Contractors can help!
For information on the various types of projects we take on, check out our page: Drainage Systems. If you're curious about how one of these projects might proceed, read on below!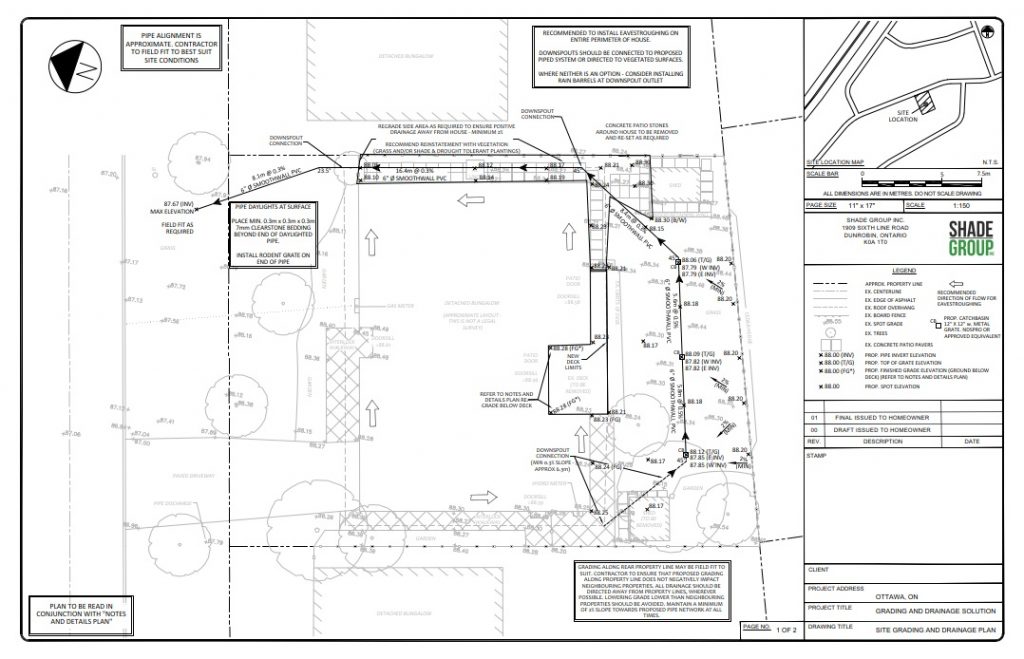 Initial Consultation
All of our projects begin with an initial consultation. A homeowner contacts us via phone or our contact form. One of the crucial bits of information in that initial submission is the project address. Upon receipt of the request for a quote, our staff will perform a desktop review of the property. This may include reviewing Google Street View imagery and looking at satellite imagery. We will also ask you for more information about your project:
When does the flooding occur – is it seasonal or more frequent?
This helps us guide homeowners on limitations with the project. Given our climate – seasonal flooding is to be expected. When the ground is frozen, water cannot permeate into the soil. If there is not sufficient slope to get the water away by another means, it will sit there until the ground thaws or it evaporates. But that's not to say that there are not improvements that can be made!
Where does the flooding occur? 
Is the water in your backyard – or in your basement? Depending on the answer – the solutions can vary dramatically.
Have you tried anything to address the problem?
To avoid wasting valuable time and money – if you've already tried something, we'll work together to try something else, rather than continuing with an approach that didn't work in the first place! But not to worry if you haven't yet tried anything – we're here to help!
Can you provide some pictures?
If available, we always appreciate having photos sent over of the conditions. This helps us to get a better visual of how bad things really are! Afterall – a picture is worth a 1000 words!
Site Visit
After the initial virtual consultation, we generally set up a site visit to review the site conditions in person. Depending on the project complexities – and the homeowner's preference – this site visit is either conducted as a standalone site visit to simply review the conditions with the homeowners and discuss some initial considerations; or the site visit may also include the initial field work to get started on a design solution. In the majority of cases, it will be up to the homeowner if they wish to conduct a standalone site visit before proceeding with the project. This approach does save some cost to the project as it means one less trip for our designers. It also allows for an initial meet and greet to establish if we'd be a good fit for your project. This initial meeting may also offer you enough information to allow you to proceed with some ideas yourself. In some cases, a variety of homeowner implemented measures can address simple drainage problems. A good place to start is Low Impact Development design solutions. For more on LID – check out our page.
Note that while our staff can generally offer high level, general design solutions at the first site visit – without having processed adn reviewed the topographic information it is difficult to confirm for certain which design solution is the best. It also means that providing definitive project pricing at the initial site visit is generally not possible. Our staff will do the best we can to guide you on anticipated limitations and approximate pricing – but a final price for construction cannot be provided until the design stage has been completed. We can comment on historical project costing for similar such projects – but each project is different.
Field Measurements
In some instances, the field measurements will be completed at the same time as the initial site visit. At other times, you may wish to first meet with our engineer to discuss the project and determine if we're a good fit – or discuss high level solutions that you then explore and/or design yourself. If you choose to proceed after the first consultation, the next stage of our involvement would include conducting a detailed topographic survey.
Drainage Design Solutions
After the topographic survey, we will start the design stage. We will first process and compile the field data to prepare a plan of the existing conditions. From there, our in-house engineer will complete stormwater management calculations based on historical rainfall data – and use this to determine the size of any required infrastructure (if applicable). In some cases, re-grading may be sufficient to address on-going issues. Other times, particularly in properties that are lower than all of the surrounding neighbours and roads – stormwater management infrastructure may be required to accommodate rainfall. Our designs are typically sized to accommodate anywhere from the 25mm to the 2-to-5 year storm event. For more about design storms – check out this blog post. We can certainly design to accommodate a larger storm event – but typically this requires larger infrastructure – which in turn means a higher construction cost. We can discuss your options throughout the process!
Future Softscaping and Hardscaping Considerations
One of the discussions we would have during the design process is whether you have any anticipated future plans for landscaping on your property. While we won't prepare a detailed landscape plan – we can prepare our design solutions to (generally) accommodate these future landscaping intentions. Note that certain hardscaping designs can further aggrevate drainage issues – particularly large concrete patios; large structures, etc. At times, implementing your desired landscape vision may not be feasible without costly additional drainage features. That is not to say that there isn't a suitable solution. With small changes, hardscaping can be implemented in a way to still offer consideration for complex drainage challenges! Our experienced staff can discuss your options at the time of your project design.
Construction
After the design has been completed, we can provide you with a free estimate for the construction. Please note that you are not obligated to hire us for the construction. If you prefer to DIY or take the design and shop it around to other contractors – we are happy to limit our involvement to design services. However, if you're looking for a one stop shop – we're also happy to help with most projects.
Note that there will be limitations on what projects our team can take on for construction. Our equipment requires a minimum of 7 to 8 feet of clearance for equipment access, so unfortunately we are not able to take on tight access projects. That said, we are still happy to work with you on developing a solution that another experienced contractor can then install for you. This limitation would be discussed with you from the on-set, so you would know from day one if we wouldn't be able to take on the construction.
Iterative Process
Stormwater management design and solving drainage problems can be complex. At the end of the day – the design is based on historical rainfall data – or "the weather" – and we all know that predicting the weather is not an exact science. Often times – the best designs may involve an iterative process. That may involve implementing a few pieces of a design solution – and waiting to see if that's "good enough". If it isn't performing as you'd hope – you add another piece to the puzzle and monitor. By tackling an iterative – wait-and-see – approach, you may save significant costs!
If you have drainage problems on your property and would like professional help – our in-house engineering design team can assist! If you're in need of a stormwater management plan for Site Plan Approval – we can help!
Reach out today to see how we can be of service! Please call (613) 894-8683 or fill out our online form and we'll get right back to you.