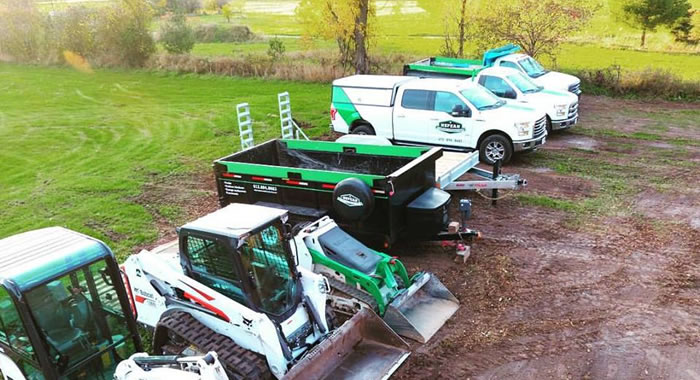 Landscaping Your Newly Purchased Nepean or Ottawa ON Property
Have you just bought a home in the area and want to improve your landscaping?
Have you just purchased an older home in an established neighborhood in Nepean?  Chances are you're dealing with a very established and mature landscape too! Hog's Back, Rideau View, Mooney's Bay, Skyline, and Fisher Heights are all areas with homes and landscapes that could be well over 50 years old.  Purchasing a home with an established and mature landscape can pose unique challenges for any homeowner who might want to make immediate changes to better suit their families specific use of the new property.
Below are a list of different challenges we've encountered as professional landscape and construction contractors serving the Nepean area.
Landscaping For an Older Home in An Established Neighborhood
The older the home and neighborhood the more "established" and "mature" the landscaping is going to be.  This could mean very large mature trees, large mature privacy hedges and likely garden beds that could be overgrown and out-of-control.  There could be existing hardscape elements such as concrete or brick porches, patios, walkways and retaining walls that are either still in great shape or they could be showing their age and might need to be replaced.
Landscaping for an older home in an established neighborhood usually starts with a good clean up of the property so that we have a baseline to move forward from.  Trimming and pruning the trees on the property, removing unwanted bushes or other intrusive growth, reshaping shrubs and hedges, cleaning out garden beds of debris, mowing the lawns and re-establishing the edges of your landscape around any gardens and other elements is an excellent start.
A good clean up will make an immediate difference in curb appeal for any Nepean property that hasn't received this kind of landscaping attention in a few years.
So What's Next After a Good Clean Up…?
Moving forward with additional landscaping projects would obviously depend on your particular property and the space you have to work with, your hopes and desires for the property and last but not least the budget you have to work with.  Yes, that pesky budget dictates what you can and cannot do.
Redoing Gardens or Building New Ones
If you're older home has garden beds that have been neglected for a time they will no doubt be full of overgrown weeds and wildly growing plants and shrubs that will need to be trimmed back into submission or removed entirely.
Some homeowners do choose to restore the existing garden beds by having all the weeds removed, tilling in some fresh soil, re-planting and laying down a layer of fresh mulch.  If the beds aren't in too bad of shape and were regularly maintained by the previous owners then they could easily be salvageable and this option would be worth while.
Other homeowners prefer to start fresh, removing the existing gardens (usually with a small excavator) and then implementing their own ideas or the ideas of a designer.
Rebuilding Cracked or Collapsing Retaining Walls
Well built retaining walls are beautiful additions to any property in Nepean but on older properties it's not uncommon to find retaining walls that have large cracks, have started to bow in the center or have even collapsed under the weight of the earth they were once holding back.  Most often these problems are the result of poor drainage and the resulting hydrostatic pressure (water pressure) behind the wall causes extreme stress, leading to cracks and eventual collapse.
We see a variety of materials used for retaining walls from railroad ties to formed concrete and if they've failed then it's usually a case of removing it from the property, regrading and prepping the build site and then replacing it with a more modern and appealing retaining wall product like Allan Block or another "modern retaining wall system.
Replacing Cracked or Sunken Patios
A concrete or brick paver patio that was installed 30+ years ago might not be looking as good as it once did.  It's not uncommon for the ground to settle and shift (often from poor drainage) and for a patio to become uneven or a concrete slab to crack or collapse or even large mature tree roots can cause damage.
Repairing a concrete or paver patio is not as easy as many homeowners think and a repair is only a temporary fix if the patio is no longer level.  Quite often an old patio or concrete slab will need to be replaced rather than repaired.
This is a labor intensive process as the old concrete or pavers will need to be removed first, usually with a small machine like a skid steer or mini excavator.  After your old patio or concrete has been removed the bare land can then be regraded, prepped with proper drainage (to help prevent this problem from happening again) and a new patio can be installed.  This is a fairly involved project but it afflicts many older Nepean area homes.
Replacing An Old, Dead Lawn With Lush Green Sod
If the lawn on your older property was unkept and not taken care of over the years then using sod for replacement is usually the fastest way to a beautiful lawn.  Your lawn area must first be graded and level, irrigation installed and appropriate drainage in place.  Once prepped for sod, delivery can be scheduled and then a small crew can roll out your new lawn.  This is a very quick and affordable way to breathe new life into your property.
Why Choose Nepean General Contractors For Your Landscaping Project?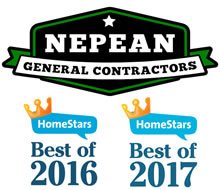 When you choose Nepean General Contractors for your landscaping project you're partnering with a small team of local craftsman.  We're a small outfit but we like it that way because it keeps the quality of our workmanship in a category other contractors can't touch.
We work one project at a time so that you get the best in our personal service.  Alan Shade (owner) is always on site and readily available to help you and make sure your project deadlines are met without surprises or hassles.
If you'd like an estimate for your landscape construction project please give us a call (613) 894-8683 or fill out our email form and we'll get back to you shortly.