General Contracting and Construction Services in Nepean ON
We specialize in residential remodeling and construction projects.
Nepean General Contractors is a small, detail-driven general contracting and construction company serving Nepean Ontario.  We specialize in the design and construction of unique projects for your indoor or outdoor living space including kitchens, bathrooms, basements and wood and composite deck construction.
Our details-driven approach means we focus on every aspect of our relationship with you. We strive to make you happy by bringing your vision to life and this is how we've built ourselves a reputation of excellence. If you have a project in mind, we're ready to listen.
Whether it's a basement you'd like to finish off or a new deck you'd like built off your back door or a total backyard makeover the team at Nepean General Contractors has creative solutions.
If you'd like to connect with a team of talented craftsman for your next home remodeling or construction project whether indoors or outdoors give us a call (613) 894-8683 or fill out our contact form and we'll get back to you right away.

Home Remodeling and Construction  Contractor Nepean ON
Are you looking for a reliable and experienced contractor to renovate or remodel your home?  Maybe you'd like to finally build that beautiful dream deck you've always wanted?  Nepean General Contractors provides homeowners with quality home remodeling and construction services to improve and update their homes both inside and out.
Home Remodeling Services in Nepean Include:
Our Nepean ON Service Area:
Why Choose Nepean General Contractors For Your Construction Project in Nepean?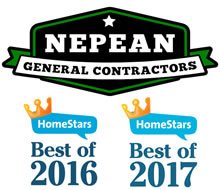 When you choose Nepean General Contractors for your home renovation or outdoor construction project you're partnering with a small team of local craftsman.  We're a small outfit but we like it that way because it keeps the quality of our workmanship in a category other contractors can't touch.
We work one project at a time so that you get the best in our personal service.  Alan Shade (owner) is always on site and readily available to help you and make sure your project deadlines are met without surprises or hassles.
If you'd like an estimate for your home renovation or outdoor construction project please give us a call (613) 894-8683 or fill out our email form and we'll get back to you shortly.