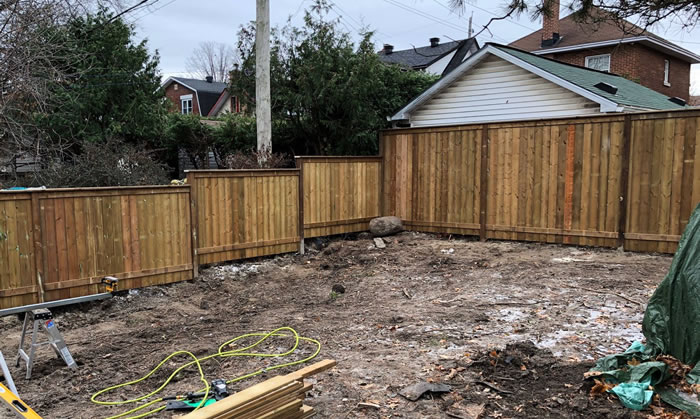 Custom Wood Privacy Fence Construction
We build beautiful wood privacy fences
There are many reasons you might want to incorporate wood or privacy fencing into your landscaping.  Maybe you'd like a little bit of privacy when you're enjoying your back deck? Or maybe you've got kids or pets you'd like to keep safe and contained within a fenced yard?  While a custom wood fence is more expensive than a wire fence, it's more aesthetically pleasing and can be built to match existing decorating or the build style of your home.  There are many possibilities with custom wood fences.
Nepean General Contractors is a full service general contractor based out of Ottawa, Ontario.  We specialize in the design and construction of wooden privacy fences of all shapes and sizes.  Whether you'd like to enclose your backyard to keep kids and pets safe and secure or you'd like to fence your entire property with a wood fence that matches your home, we can help.
Wood Fence Construction Nepean and Ottawa
Wood Fencing Construction
Privacy Wall Construction
Cedar Fencing Construction
Privacy Fence Construction
Decorative Fence Construction
Decorative Post Caps
Decorative Gates
An important thing to note about fences is that they are often subject to local zoning and building codes.  You might be limited on the maximum height, distance from property lines (called setback) and sometimes even the style of fence must be specific to meet strata requirements depending on where you live.
How Our Wood Privacy Fence Construction Process Works
We've built and installed many different styles of privacy fencing over the years and bring a wealth of ideas an experience to the table.
We start with our initial consultation.
We determine how many linear feet of fencing you need.
We take into account the lay of your land and any obstacles.
We consult with you on the materials you'd like your fence built with.
We'll provide an accurate estimate for the work including materials and labour.
If you accept.  We'll get to work on the scheduled start-date and build your new privacy fence.
The end result will be a beautiful new fence on your property.
The amount of labor and materials required to build a fence on your property can vary widely from project to project as every fence we build is unique.  The slope of your property, the amount of clearing and lot prep that must be done and the overall accessibility of your property will all contribute to the final cost.  We'll be able to offer you an accurate estimate only after a site visit.
Why Choose Nepean General Contractors For Your Fence Building Project?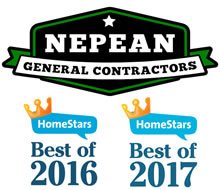 When you choose Nepean General Contractors for your wood fence construction project you're partnering with a small team of local craftsman.  We're a small outfit but we like it that way because it keeps the quality of our workmanship in a category other contractors can't touch.
We work one project at a time so that you get the best in our personal service.  Alan Shade (owner) is always on site and readily available to help you and make sure your project deadlines are met without surprises or hassles.
If you'd like an estimate for your wood fence construction project please give us a call (613) 894-8683 or fill out our email form and we'll get back to you shortly.