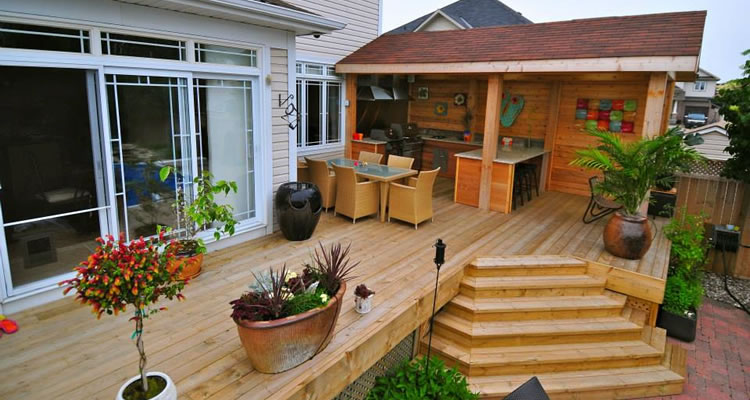 Dreaming Of A Beautiful Wood Deck To Relax On This Summer?
We design and build custom wood decks in Nepean and Ottawa.
Do you have an existing wood deck on your property that you are looking to rebuild out of a more durable and long-lasting composite material?  Would you like to work with a builder who can design and build a deck specifically for your home or property?
Nepean General Contractors is a full service general contractor based out of Ottawa, Ontario.  We specialize in the design and construction of custom wood decks using materials like Western Red Cedar, pressure treated lumber and even exotic hardwoods such as Cumaru and IPE (ee-pay).
Custom Wood Deck Builder in Nepean and Ottawa ON
Western red cedar deck construction
Pressure treated lumber deck construction
Exotic hardwood deck construction (Cumaru/IPE)
Aluminum deck railings
Aluminum balusters
Types Of Wood We Build Decks With: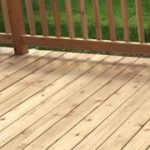 Western Red Cedar Deck Construction:  Western Red Cedar is a softwood that is only native to the Pacific Northwest and it grows in abundance on Vancouver Island and throughout BC.
Considering cedar decking material is nearly twice the price of regular pressure treated wood decking material there must be several reasons people want to pay the premium for cedar right? Right!  Cedar is a very desirable wood for it's decorative properties where it's rich natural red hues and coloring deliver an iconic, timeless look for your home.
Cedar is also naturally resistant to the attacks from many of our wood boring insects. Cedar is also resistant to rot and decay, much moreso than other softwoods and let's face it… It's pretty tough to beat the smell of freshly milled cedar!  Cedar decking is available with or without knots (known as "clear" cedar) depending on the look you are after (rustic vs clean).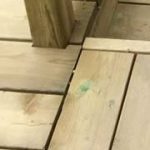 Pressure Treated Lumber Deck Construction:  Pressure treated lumber has been a deck building staple for many decades.  It's affordable, it's readily available and they look excellent when they are built by craftsman and finished properly.
Homeowners building decks out of more exotic hardwood or softwood materials often will use pressure treated lumber to build the frame of their deck as they can save considerable sums of money.  Pressure treated lumber is also usually the best choice for any decks or deck framing that will be in direct contact with the ground.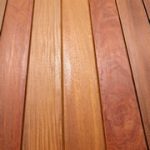 Ipe Deck Construction: Ipe, pronounced (ee-pay) also known as "ironwood" is a very popular brazilian hardwood that has long been prized for it's durability and ability to withstand years of harsh weather.
You've probably already walked on an Ipe deck, walkway or boardwalk without even knowing, as it's easily one of the most popular exotic wood choices in North America.  Ipe's color can vary from a deep brown with a rich grain to a yellowish-brown with soft grey undertones.  It's a beautiful looking wood when properly cared for.
Ipe hardwood is chosen for its high density and resistance to scratches, decay and insects. With a Janka hardness rating of 3680 it's more than 3 times more durable than Cedar.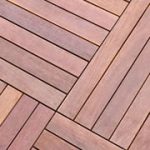 Cumaru Deck Construction: Cumaru (also known as Brazilian Teak) is another beautiful exotic hardwood from South America with lots of natural character.  Cumaru is often used for building the decks on luxury homes, five-star hotels, fancy beach resorts, and commercial decking projects.
Cumaru decking is often separated into two different color categories:  You have light colors, which is also known as "standard Cumaru" or Brazilian Teak.  There is also dark Cumaru which is known as Red Cumaru or Brazilian Chestnut.  Both options are available through local suppliers.
Like most other exotic hardwood decking materials Cumaru naturally resists rot, decay and wood boring insect attacks.  Without preservatives Cumaru can last up to 50+ years with regular maintenance.
Why Choose Nepean General Contractors For Your Wood Deck Building Project?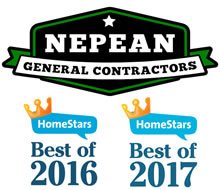 When you choose Nepean General Contractors for your wood deck construction project you're partnering with a small team of local craftsman.  We're a small outfit but we like it that way because it keeps the quality of our workmanship in a category other contractors can't touch.
We work one project at a time so that you get the best in our personal service.  Alan Shade (owner) is always on site and readily available to help you and make sure your project deadlines are met without surprises or hassles.
If you'd like an estimate for your wood deck construction project please give us a call (613) 894-8683 or fill out our email form and we'll get back to you shortly.