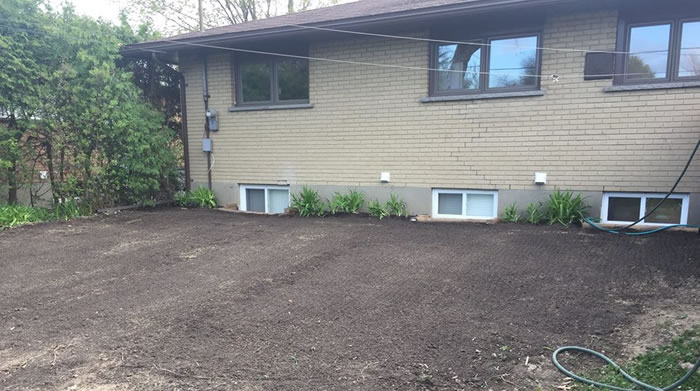 When a homeowner comes to us with a foundation problem, we take it seriously.  While every foundation and waterproofing issue we come across can be caused by different issues, the repair often follows the same principals so we can ensure a consistent success rate with our client projects.  When excavators and digging on the property is involved it can get expensive real quick.
This article will describe to you a little bit about foundation waterproofing, why it's required, how you know if you have a problem and more importantly, how we can fix it.  It's not uncommon for us to be called out to repair a foundation that has already been poorly repaired once.  We'll describe how to do it right the first time.
#1.  Excavate The Foundation
This is where our mini-excavators and skid-steers come in handy, especially when working in tight backyards or spaces.  Before doing any digging around your home it's critical that you call the Ontario One Call hotline to ensure there are no gas or electrical lines in the area you are digging.  After it has been determined it's safe to dig we can use a combination of our mini-excavators and hand-digging to uncover the foundation right down to the footing (bottom).  Digging carefully and slowly with machines and shovels helps prevent any expensive damage to the foundation which would be counter-productive to our repairs, yet happens all the time with less experienced or less professional contractors.
Once the foundation has been uncovered, we can use a power-washer to clean it up and make it easier to spot any issues with a visual inspection.
#2.  Repairing and Parging The Foundation
If any damage or issues with the foundation are discovered they must be repaired.  Parging is a building process that coats the exterior of your foundation with a protective cement coating.  This can repair small cracks by filling them in and also provides a certain level of damp proofing and a good base for the application of additional waterproofing layers.
#3. Install Blueskin Waterproof Membrane
Blueskin is a widely used method of modern foundation waterproofing.  Blueskin is a rubberized asphalt membrane that is laminated to a Polyethylene film through a proprietary process.  This provides a very durable, waterproof barrier that is tough yet flexible and adheres very well to concrete substrate such as a foundation.  This doesn't just damp-proof your foundation, this water-proofing you foundation and it's important that high quality materials be used and they must be installed as per the manufacturers specifications.
#4.  Install A Protective Platon Membrane
After the Blueskin has been properly applied the foundation should be wrapped in Platon Membrane.  Platon membrane, also known as "dimple board" provides the your foundations first defense against water intrusion and it also provides physical protection to the newly applied Blueskin membrane.  The dimples purpose is to provide a small air gap behind the dimple board so that any water that might work it's way behind the membrane will just drain down and won't be trapped between the layers.
#5.  Install New Weeping Tiles To Improve Drainage
Many of the foundations we are called to repair have been damaged because of poorly implemented or broken drainage systems and/or site grading issues.  Water needs to be channelled away from your foundation, it must not be allowed to pool up around it.  If your home was built 50 years ago, then there is a good chance your drainage system might not be up to the same standards as what is recommended today.  Properly installed and functioning weeping tiles are essential for keeping your foundation and basement dry.
#6.  Proper Site Grading
Once your foundation has been waterproofed with the above steps it's time to backfill around the foundation.  It's important that the backfill be mounded and up then sloped away from your foundation.  Directing the flow of water away from your home should always be the top priority.
#7.  Putting Together Your Landscaping Again
In most cases we are able to complete foundation repairs with minimal disruption or damage to your property.  In other cases though, sometimes it is unavoidable and we may have to dig up lawns or gardens or remove trees or other obstructions to access the foundation.
Do You Need Your Foundation Waterproofed or Repaired?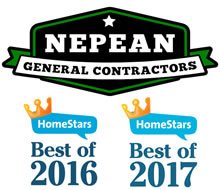 Nepean General Contractors specializes in foundation waterproofing and repairs.  We have our mini-excavators and our waterproofing crew is trained and knowledgeable on the latest building codes and requirements when it comes to properly waterproofing your concrete substrate foundation.
We work one project at a time so that you get the best in our personal service.  Alan Shade (owner) is always on site and readily available to help you and make sure your project deadlines are met without surprises or hassles.
If you'd like an estimate for your foundation waterproofing or repair project please give us a call (613) 894-8683 or fill out our email form and we'll get back to you shortly.