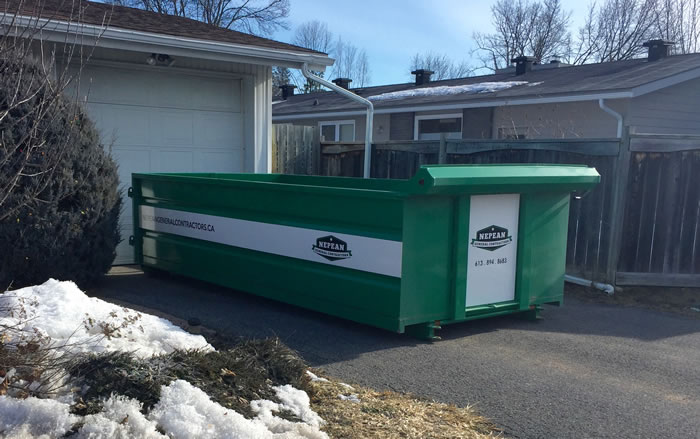 Do You Need a Roll-Off Dumpster For Your Next Project?
We deliver and dump roll-off dumpster bins for demolition and renos.
If you are in the process of a home remodeling project, a demolition or yard clean up then a roll-off dumpster bin can make your job of waste handling so much easier.  A roll-off bin can be placed as close to the work site as possible making it even easier to handle all of the debris.
Nepean General Contractors is a full service general contractor based out of Ottawa, Ontario.  We offer roll-off dumpster rentals for homeowners and contractors looking for a convenient solution for waste management on their next renovation or construction project.  Our bins can be delivered to your location at a time/day of your choosing and we can pick them and dispose of your debris.
Roll-Off Dumpster Bins Nepean and Ottawa
Dumpsters for renovations and construction
Dumpsters for landscaping and property clean up
Dumpsters for estate clean ups and household garbage
We offer either an 8 yard bin which is 6.5′ x 12′ x 3ft' and we also offer a 10 yard bin which is 6.5′ wide x 14′ long x 3′ high sides.  If you are unsure what bin size to request please give us a call and we'll help you decide based on what you'll be putting in the dumpster.
What Type Of Materials Can You Put In The Dumpster Bin?
Construction, landscaping and property clean up projects can generate a large amount of debris including wood, drywall, insulation, trash, tile, flooring materials, roofing shingles and more.
Lumber and construction debris
Cabinets, countertops and vanities
Metal (will need a separate bin)
Drywall (asbestos free manufactured after 1990)
Green waste (will need a separate bin)
What Type Of Materials Are Prohibited?
There are a variety of materials that are prohibited from the landfill and must either by recycled or disposed of in a controlled manner.  These items are NOT ALLOWED to go into our bins and if they do you'll incur additional charges and possible delays in bin pickup.
Asbestos or materials that contain it
Drywall (prior to 1990)
Paints or other chemicals
Fuel, oils, grease or vehicle fluids
Biomedical or radioactive waste
Fuel tanks or propane tanks
Food Waste (special program in place)
Hazardous waste of any kind
Animal waste or carcasses
Cardboard (must be recycled)
Vehicle or bicycle tires (recycling program)
Batteries of any type (recycling program)
Why Choose Nepean General Contractors For Your Roll-Off Dumpster Bin?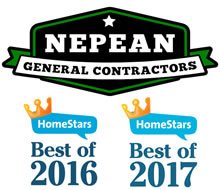 When you choose Nepean General Contractors for your roll-off dumpster bin rental you're partnering with a small, local business.  We maintain a small fleet of trucks and equipment and have a selection of smaller bins that are perfect for homeowner or small contractor projects.
If you'd like an estimate for your roll off dumpster rental, delivery and pickup please give us a call (613) 894-8683 or fill out our email form and we'll get back to you shortly.