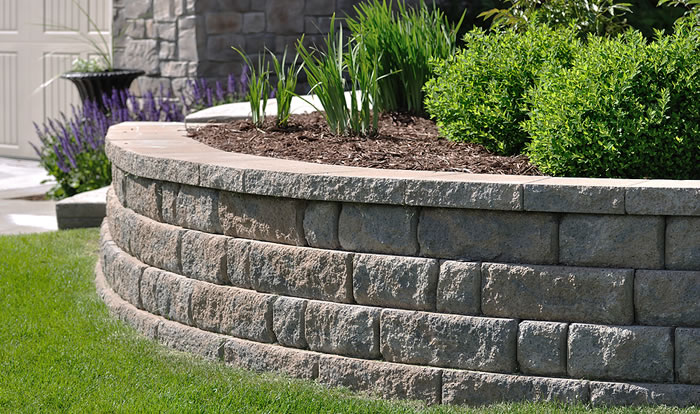 Retaining Wall Construction Nepean and Ottawa
We build beautiful, functional retaining walls.
Retaining walls are a great way to enhance both the look and function of your landscaping and property.  They are most often used as a solution for gaining more usable land on sloping and uneven properties.  Retaining walls let you carve out functional outdoor spaces into sloped properties that can be suitable for new sections of lawn, boat or RV storage, patios and more.  Retaining walls can be built for function and aesthetic appeal depending on the materials you choose to use.
Nepean General Contractors is a full service general contractor based out of Ottawa, Ontario.  We specialize in the design and construction of retaining walls from a variety of different materials including Allan Block, Concrete, Cement Blocks, Boulders, and more.  Our team can take care of the site preparation, installation and clean up.
Retaining Wall Construction Nepean and Ottawa
Allan Block retaining wall construction
Concrete block retaining walls
Boulder and rock retaining walls
Tiered retaining walls
Poured concrete retaining walls
Retaining Walls & Building Permits in Ottawa
Retaining walls that are over 1.2 meters (3.9ft) in height will require a building permit. In addition any retaining walls over 1.2 meters (3.9ft) in height must be designed and signed off by a geotechnical and structural engineer to ensure the wall is properly constructed for your site conditions. An exception applies to the permit for "terraced or tiered" retaining walls where the distance between terraces is equal to or greater than twice the height of each terrace. This does not account for any covenants that might be on your property.
Retaining Wall Drainage Systems
While retaining walls are designed and built to hold back earth and soil they will also hold back and channel water. The water that builds up behind a retaining wall is referred to as "hydrostatic pressure" and the external force of the material/fill held behind your wall coupled with the weight of the water is often enough to seriously compromise the integrity of your wall and even cause failure and collapse if this hasn't been accounted for.
A good drainage system should be an integral part of any retaining wall design, especially for larger or tiered retaining walls.  Depending on the type of material being used to build the wall there are a variety of ways to integrate sufficient drainage such as weep holes, lateral drains, blanket drains and also the use of very granular soil or fill in behind and below the wall.
Why Choose Nepean General Contractors For Your Retaining Wall Project?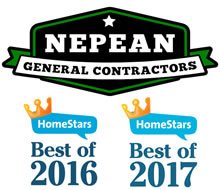 When you choose Nepean General Contractors for your retaining wall construction project you're partnering with a small team of local craftsman.  We're a small outfit but we like it that way because it keeps the quality of our workmanship in a category other contractors can't touch.
We work one project at a time so that you get the best in our personal service.  Alan Shade (owner) is always on site and readily available to help you and make sure your project deadlines are met without surprises or hassles.
If you'd like an estimate for your retaining wall construction project please give us a call (613) 894-8683 or fill out our email form and we'll get back to you shortly.