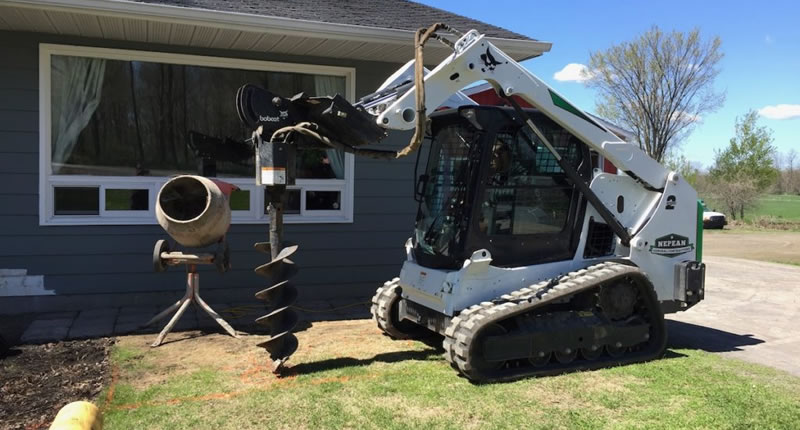 Post Hole Digging Service
Are you getting ready to install a fence on your property and you need a series of deep holes augered for the fence posts?  Do you need to excavate footings for a deck that you are planning to build?  If you need post holes or holes for footings then you'll save a lot of time and energy by finding someone with a skid-steer and the necessary augering attachments to make short work of all your circular hole needs.
Nepean General Contractors is a licensed and insured excavation contractor based out of Nepean, ON. We have the equipment and expertise to handle large post hole projects. Whether you need holes for new footings for your deck or a new perimeter fence, we are able to help.  We are careful and conscientious operators with our equipment and we'll always work to minimize damage and disturbance on your property.
We have a variety of auger bits from 9″ to 36″ so we are able to auger holes for a variety of purposes and applications.
To protect your property we put down ground protection mats and non marking mats when excavating or travelling through sensitive areas. Our equipment is also equipped with tracks to work in softer ground conditions.
Please note that as our equipment is quite large – we do require a minimum of 7 ft of access to the work area. To remain cost effective for your project, we typically only take on projects with a minimum of 15 post-holes, but as long as you have access, feel free to contact us about your smaller projects and we can see if we can be of assistance.
Why Choose Nepean General Contractors For Your Post Hole Project?
When you choose Nepean General Contractors for your post hole digging project you are partnering with a local business that has been serving the Ottawa area for many years.  You can count on your project being completed on time, within your budget and with a level of workmanship and attention to detail you won't find with other excavation contractors.
We'll maintain a safe working environment and we'll protect your property from any damage while using our machines, the end result is too meet all of your excavation goals while leaving minimal trace of our presence.  Our business has continued to grow through word-of-mouth from our many happy customers who refer us to friends and family.  It's through our continued commitment to quality and customer satisfaction that we are able to continue doing what we do best!
If you'd like to receive an estimate to auger the post holes for your fence or for footings on a deck please give us a call (613) 894-8683 or fill out our contact form and we'll get right back to you.