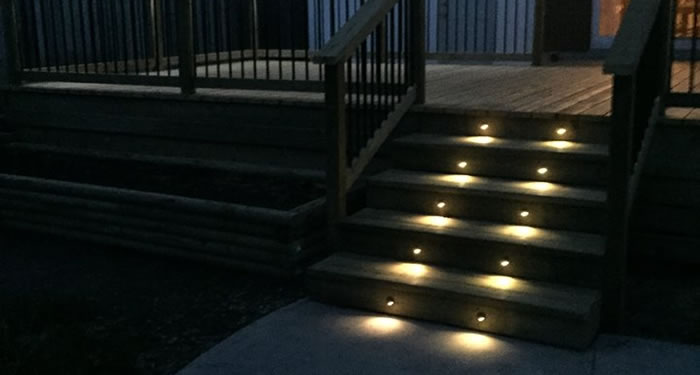 Low Voltage Outdoor Lighting Installations
We specialize in the installation of landscape lighting
Landscape lighting is a small feature that can make your landscaping features really stand out.  Landscape lighting, also known as "low voltage" outdoor lighting is weatherproof and the lights can be used to illuminate your garden pathways, flower beds, specific trees, alongside driveways, along retaining walls, walkways, and more.  When properly installed, low voltage landscape lighting will give your home a whole new look at dusk and dark.  "Low Voltage" refers to the 12volt power these lighting systems require, which is much lower than household standard of 120 volts.
Nepean General Contractors is a general contractor based out of Nepean and serving the Ottawa area.  We specialize in landscaping projects including the installation of low voltage outdoor lighting to accents decks, patios and landscape features. From installing an outdoor lighting system on your deck or outdoor cooking are to lighting up your driveway on those dark nights our team will be able to provide you with low voltage lighting solutions.
Low Voltage and Outdoor Lighting Installations Nepean ON
Deck lighting systems
Outdoor lighting systems
Garden lighting installations
Landscape lighting installations
Components Of a Low Voltage Landscape Lighting System
Aside from your lighting fixtures and other accessories there are a  few key components that are going to be found with every low voltage lighting system.
 The Transformer:  The transformer usually plugs into an exterior GFCI protected electrical outlet which steps down the standard household current of 120 volts to the much lower 12 volts required with a low voltage system.  The size of the transformer required will depend on how many lights are in the system and how much power they require.
Low Voltage Electrical Cable:  The electrical cable used for landscape lighting is designed specifically to be buried underground in shallow trenches so the cabling can remain concealed, but still easy to work on in the future.
Light and Fixture Selection:  There are literally hundreds of different landscape lighting fixtures, designs and other accessories.  Depending on what you are trying to accomplish, different lights will be more suitable to specific situations.  Pathway lights are perfect to line a driveway, while spotlights work great for shinning on specific trees or bringing attention to certain areas of your home.
Why Choose Nepean General Contractors For Your Low Voltage Lighting Project?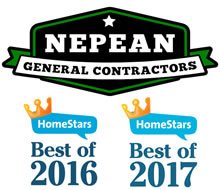 When you choose Nepean General Contractors for your home renovation or outdoor construction project you're partnering with a small team of local craftsman.  We're a small outfit but we like it that way because it keeps the quality of our workmanship in a category other contractors can't touch.
We work one project at a time so that you get the best in our personal service.  Alan Shade (owner) is always on site and readily available to help you and make sure your project deadlines are met without surprises or hassles.
If you'd like an estimate for your home renovation or outdoor construction project please give us a call (613) 894-8683 or fill out our email form and we'll get back to you shortly.