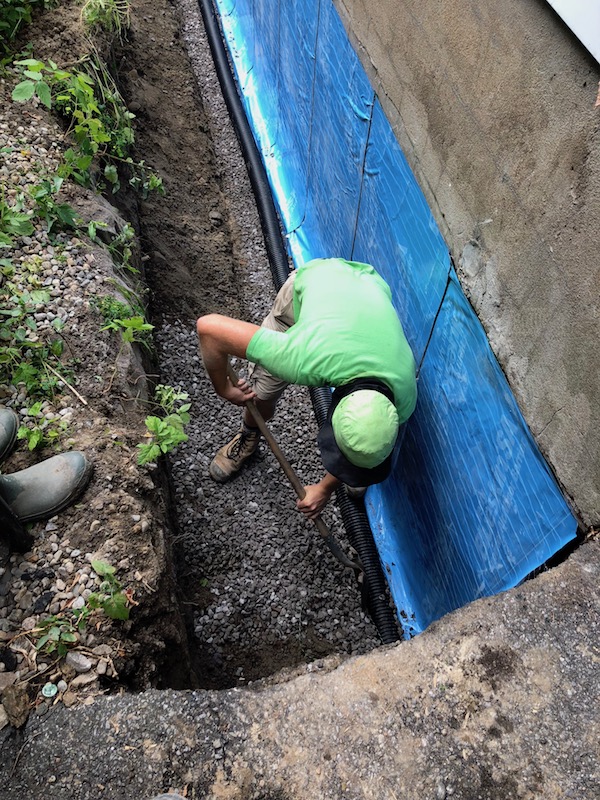 Foundation Waterproofing In Nepean and Ottawa
We repair leaking basements and concrete foundations
Do you have moisture issues with your foundation or basement? There are a variety of issues that can contribute to foundation problems including poor site grading, tree root infiltration from large mature trees, downspouts terminating right at the foundation and even poorly attempted past repair jobs.
Moisture or water in a basement can prevent you from finishing and enjoying that space. It can also wreak havoc on existing finished spaces causing mold and potential health issues.
Nepean General Contractors is a full service general contractor based out of Ottawa, Ontario. We specialize in concrete and concrete block foundation waterproofing and repairs. If you have a leaky basement, or foundation issues that need to be repaired we can help.
Foundation Waterproofing and Repairs Nepean and Ottawa
Foundation digging and inspection
Foundation waterproofing
Concrete block foundation waterproofing
Basement waterproofing
How Do We Waterproof Your Concrete Foundation?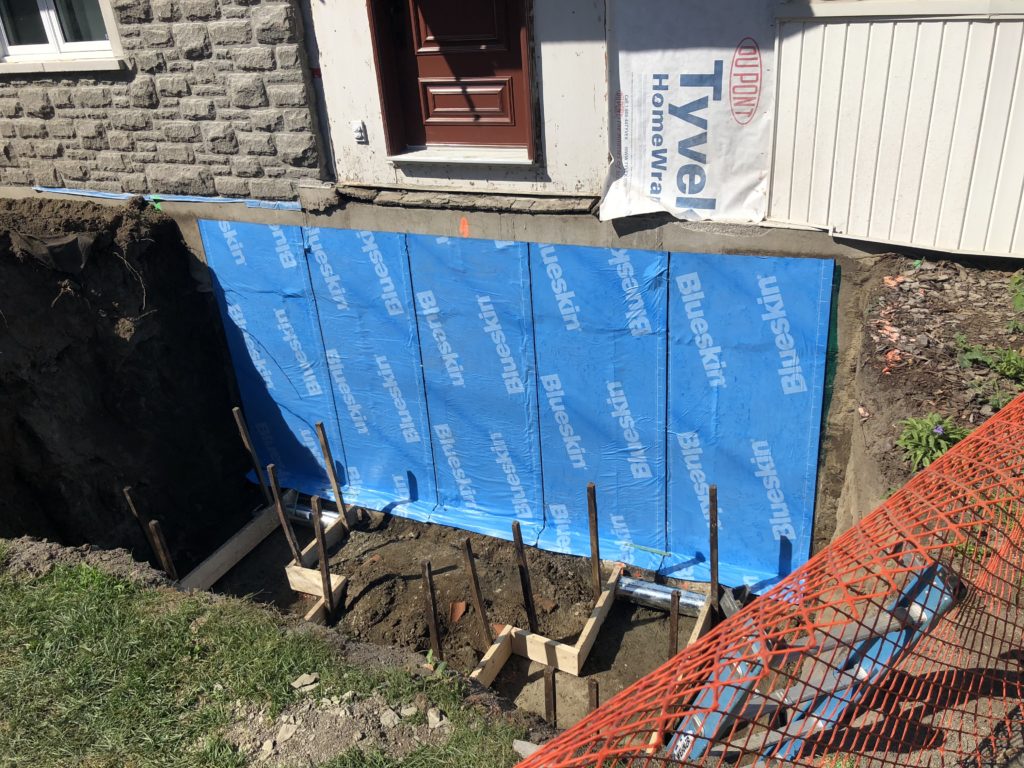 The first step is confirming you have a problem through an on-site inspection. We will conduct a visual inspection taking in to account things like grading, downspouts, trees, windows, driveways, etc. Wherever possible, we will use thermal imaging to get a better understanding of how the water is moving.
Once we have determined the specific problem, we will then start on the repair.
Below is a walkthrough of an average foundation waterproofing project done by us.
For a permanent repair, most foundation waterproofing projects require some form of excavation or dirt work. The goal of our work is to prevent water from ever entering the porous foundation, whether it be poured concrete, concrete block, stone, or brick.
To get started on this, the first thing we do is get utility locates for the job.
Once we have those locates, we can safely excavate a trench 2-3 ft wide, down to the underside of footing. It is important that this is done with care, as careless operation of equipment could cause damage to property, underground utilities (gas, hydro, cable, etc) or cause health and safety concerns. Depending on site conditions, we may utilize shoring of the trench for worker safety.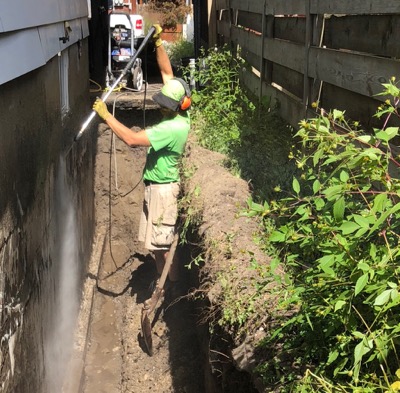 Once everything is properly excavated we can begin on cleaning the wall. Most often this is done with a high powered pressure washer or steamer.
Once the wall is clean, we will repair cracks with mortar or hydraulic cement. The goal of this is to provide a smooth substrate for our first layer of waterproofing membrane to adhere to.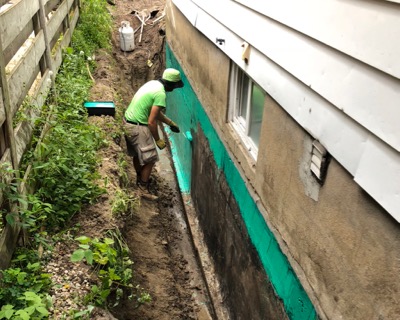 Our first layer of waterproofing is a self-adhering composite membrane such as Blueskin. This membrane adheres to a properly prepared substrate and creates a flexible, self healing high performance waterproofing barrier.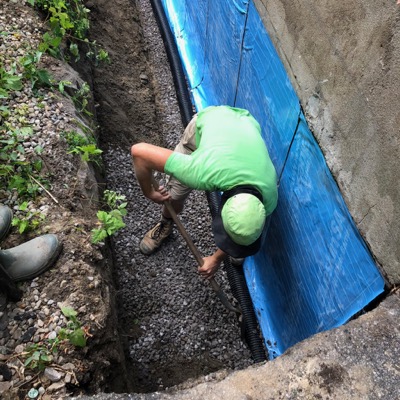 Once our first waterproofing layer is in place, we then install the footing drain or weeping tile. Typically this is done with 4" perforated pipe, either HDPE or PVC. This pipe is then covered in a layer of gravel, and wrapped in geotextile to prevent migration of fines. Once this is complete we can move on to our second layer of waterproofing.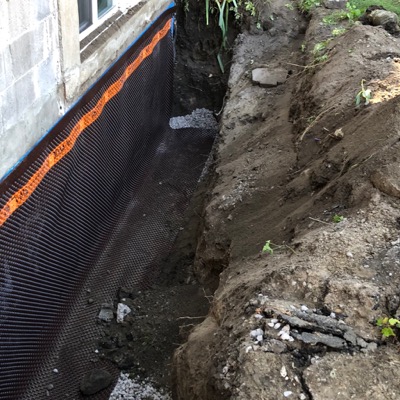 Our second layer of waterproofing is a dimpled membrane such as Delta-MS, or Platon. These membranes are constructed of high-density polyethylene that serve to create an air gap, between the wall and backfill, while simultaneously protecting the previous layer of waterproofing. This layer is finished off with specialty sealants at penetrations, edges, and seams. Flashing is also applied to the top, and terminations.
Once the waterproofing is installed, we can then move on to installation of window wells, and backfill. In high hydrostatic pressure situations (heavy expansive clay) we backfill to just below grade with clear stone to give the water somewhere to go. If your site has acceptable soils, we backfill with native materials to grade.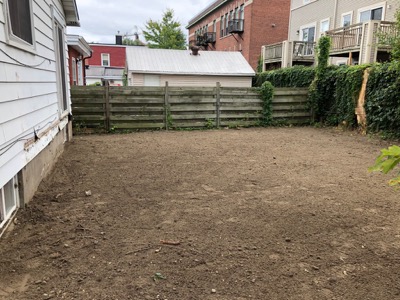 Once backfilled, we establish and finish grade. Depending on site conditions, now would be the time where we install seed, sod, or reinstall existing landscape features such as brick walkways or driveways.
We use a belt and suspenders approach to waterproofing because it creates redundancy and protects your investment, and gives you peace of mind for years to come.
Why Choose Nepean General Contractors For Your Foundation Waterproofing Project?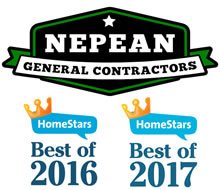 When you choose Nepean General Contractors for your concrete construction project you're partnering with a small team of local craftsman. We're a small outfit but we like it that way because it keeps the quality of our workmanship in a category other contractors can't touch.
We work one project at a time so that you get the best in our personal service. Alan Shade (owner) is always on site and readily available to help you and make sure your project deadlines are met without surprises or hassles.
If you'd like an estimate for your foundation waterproofing project please give us a call (613) 894-8683 or fill out our email form and we'll get back to you shortly.