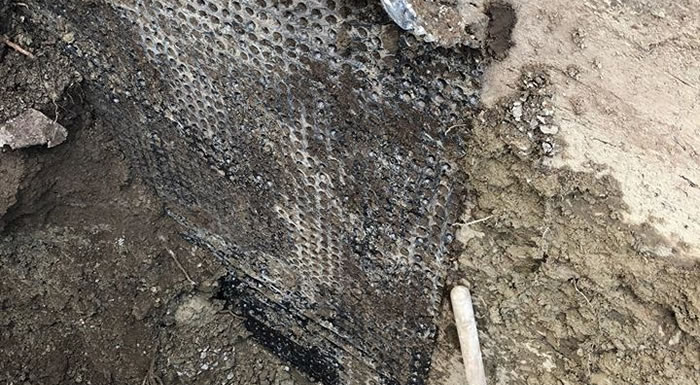 Foundation Waterproofing In Nepean and Ottawa
We repair leaking basements and concrete foundations
Do you have moisture issues with your foundation or basement that have happened due to poor or no waterproofing in place?  There are a variety of issues that can contribute to foundation problems including poor site grading, tree root infiltration from large mature trees, downspouts terminating right at the foundation and even poorly attempted past repair jobs.
Nepean General Contractors is a full service general contractor based out of Ottawa, Ontario. We specialize in concrete and concrete block foundation waterproofing and repairs.  If you have a leaky basement, or foundation issues that need to be repaired we can help.
Foundation Waterproofing and Repairs Nepean and Ottawa
Foundation digging and inspection
Foundation waterproofing
Concrete block foundation waterproofing
Basement waterproofing
How Do We Waterproof Your Concrete Foundation?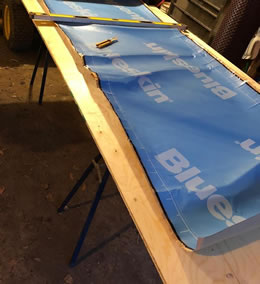 The first step is confirming you have a problem through visual and on-site inspection.  Then we'll need to do some exploratory digging right to the footing of the foundation with a small excavator to uncover the affected area.  Mini-excavators are handy for this process as they can get into tight spaces and small yards without causing extensive damage to the property.
Every foundation situation we encounter is unique and different repairs are available depending on the overall condition of the foundation.  There are a variety of repair methods we can employ to repair your foundation and protect it from further water intrusion.  Cracks need to be parged and repaired properly and then "Blueskin" can be applied.
Blueskin is a rubberized asphalt membrane that is laminated to a Polyethylene film through a proprietary process.  This provides a very durable, waterproof barrier that is tough yet flexible and adheres very well to concrete substrate such as a foundation.  This provides a modern waterproof barrier for any concrete foundation.
Proper basement and foundation waterproofing requires excavating the dirt and soil around your foundation right down to the footing.  It also requires inspection and repair or replacement of your drainage tiles.
Why Choose Nepean General Contractors For Your Foundation Waterproofing Project?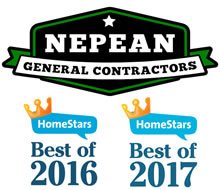 When you choose Nepean General Contractors for your concrete construction project you're partnering with a small team of local craftsman.  We're a small outfit but we like it that way because it keeps the quality of our workmanship in a category other contractors can't touch.
We work one project at a time so that you get the best in our personal service.  Alan Shade (owner) is always on site and readily available to help you and make sure your project deadlines are met without surprises or hassles.
If you'd like an estimate for your foundation waterproofing project please give us a call (613) 894-8683 or fill out our email form and we'll get back to you shortly.