Want To Relax On A New Composite Deck This Summer?
We specialize in designing and building custom composite decks.
Do you have an existing wood deck on your property that you are looking to rebuild out of a more durable and long-lasting composite material?  Composite and PVC decking materials are virtually maintenance free and some carry warranties of up to 25 years, far beyond the lifespan of an average wood deck and it won't splinter, fade or rot.
Nepean General Contractors is a full service general contractor based out of Ottawa, Ontario.  We specialize in the design and construction of composite decks using materials from Trex, Azek and TimberTech whom are all leading manufacturers of composite and PVC decking materials.
We Install Trex Decking
Trex is a high performance composite decking material and is available in several grades and styles.
We Install Azek and TimberTech Decking
Azek is a PVC composite decking that is available in several different grades and styles.
Deck Builder in Nepean Ontario
Trex deck builder
Azek deck builder
TimberTech deck builder
Custom deck design
Composite deck construction
Metal deck railings
Vinyl deck railings
If there was just one single exterior home improvement any Ontario homeowner could make to their home, that would enhance both the look and property value it would be the addition of a new custom composite deck with new metal or vinyl railings. Not just any old deck will do however, and there are several things you need to consider before you get to work building your deck.  That's why choosing an experienced team like Nepean General Contractors is your best choice!
Why Choose Nepean General Contractors For Your Composite Deck Building Project?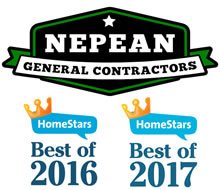 When you choose Nepean General Contractors for your composite deck construction project you're partnering with a small team of local craftsman.  We're a small outfit but we like it that way because it keeps the quality of our workmanship in a category other contractors can't touch.
We work one project at a time so that you get the best in our personal service.  Alan Shade (owner) is always on site and readily available to help you and make sure your project deadlines are met without surprises or hassles.
If you'd like an estimate for your composite deck construction project please give us a call (613) 894-8683 or fill out our email form and we'll get back to you shortly.