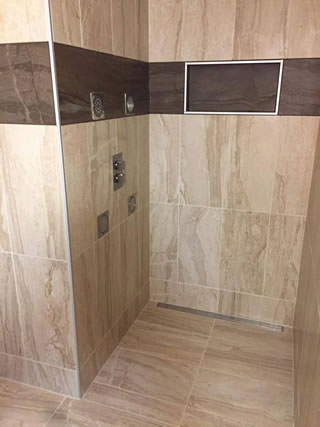 Bathroom remodelling is one of the most personal projects you can undertake in your home. That's why it's one of the most rewarding both for your enjoyment and the increased resale value in your home further down the road. Experts generally agree that a modern bathroom remodel is often the best bang-for-the-buck if a homeowner is looking to update their home. From luxurious tile tub surrounds, to heated tile flooring, multi jet showers, steam showers, or converting a tub to a curbless or walk in shower.
Nepean General Contractors is a full-service bathroom remodelling contractor based out of Nepean, ON and serving Ottawa and the surrounding area.  We specialize in bathroom remodelling and renovation projects from a large scale gut and remodel of a master bathroom to smaller projects such as the installation of new bathroom flooring or converting an old tub into a shower.
Bathroom Remodelling Nepean ON
Complete bathroom remodels
Tub-to-shower conversions
Custom tile shower surrounds
Custom tile tub surrounds
Heated tile bathroom flooring
Popular Bathroom Remodelling Options
Heated Tile Flooring for Bathrooms
If you've ever stayed in a 5 star hotel or resort and experienced the relaxing, luxury of a heated tile floor on your feet after a shower or bath then you'll know why someone might want this in their home!  If you're going through a complete a makeover and putting in a new tile floor, now is the time to install a heated tile floor because it will never be cheaper to do then when you're already remodelling your bathroom.
Converting An Old Tub Into a Shower
If you've got a dingy old tub in your bathroom that just takes up space and doesn't get used, it's time to consider replacing the tub with a shower and surround.  This is a popular bathroom renovation project for people who have mobility problems or elderly where getting in and out of a bathtub can be dangerous.
Custom Tile or Stone Showers
For the ultimate showering experience consider a custom tile or stone shower.  There are several material choices from stone to ceramic tiles in literally hundreds of styles that can be laid with beautiful patterns and even added function like shower niches, or shelves.
Keep the water from your new shower off your bathroom floor with a custom glass shower enclosure and keep the hot water on your back with a digital shower controller or dual shower heads for that perfect showering experience.
Why Choose Nepean General Contractors For Your Construction Project?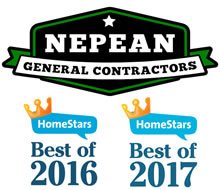 When you choose Nepean General Contractors for your bathroom remodelling or renovation project you're partnering with a small team of local craftsman.  We're a small outfit but we like it that way because it keeps the quality of our workmanship in a category other contractors can't touch.
We work one project at a time so that you get the best in our personal service.  Alan Shade (owner) is always on site and readily available to help you and make sure your project deadlines are met without surprises or hassles.
If you'd like an estimate for your bathroom remodeling project please give us a call (613) 894-8683 or fill out our email form and we'll get back to you shortly.